Custom Broking / Clearing
---
Since our Inception, we have been growing day by day as a trustworthy Custom Clearing Agents. It is our endeavor to enhance our Customer's delight by offering them right solution at right time. We have our own Customs Brokering License issued by the Indian Customs Department. We have thorough knowledge and experience of clearing Imports as well as Exports cargoes by Air or by Sea.
Local Haulage
---

Transportation of general cargo.Transportation of heavy and over dimensional consignment. Multi-modal transportation by road I roll / barge etc. Specialized transportation of very heavy consignments by hydraulic axle Trailers. We design and offer various specialized transportation solutions as per the clients requirements for the entire Project shipments.
Port Handling / Dock Clearance
---

Discharge and loading of bulk cargo and bagged container cargo
Arranging cargo survey
Container Fumigation
Aircraft / Vessel Chartering
---

This is one of the key areas for our development of business. We have successfully been able to handle Air and Vessel Charters from Europe, Middle East and China. We have proven capacity and capability to Air / Vessel Charter anything to do and from India from any where in the world and also arrange door deliveries in most of the places around the globe.
Packing & Repacking
---

Arranging of export cargo in seaworthy packing
Re-packing and Repairs of cases
Palletizing, Shrink Wrapping and Labeling of crates / cases
Ocean Freight (FCL/LCL) 
---

Providing most competitive and efficient FCL/LCL services
Negotiation & booking of best freight rates
Multi Modal Transport (Land, Sea, Air)
---

Door to door availability
Worldwide LCL consolidation
NVOCC service
Warehousing
---

As pert of our basket of services enabling you to reduce overheads, increase efficiency and cut down valuable management time we provide adequate Insured private warehousing apace for storage, consolidation, repacking, documentation & labeling.
Air Freight
---

Freight booking
Selection of Airlines
Arrangement of Shipment
Project Export & Import
---


We offer specialized service for handling clearance of machineries and other specified items as part of complete Project export or import.
Insurance Services
---

Arranging for Marine "Goods in Transit" cover
Empty container insurance of all import or export cargo
Stevedoring
---

USPL has tie ups with leading stevedorers who have at the necessary gears I equipment for the safe handling of cargoes, including front end loaders, self unloading trucks for bulk cargoes, Hydraulically operated Hoppers, mobiie cranes, woes slings, hydraulic axles & prime movers for handling over dimensional and heavy cargoes.
Consultancy Services
---

Providing guidance related to Export-Import policies
Local Customs, Excise and Directorate General of Foreign Trade (DGFT) co-ordination
Turnkey Project Handling
---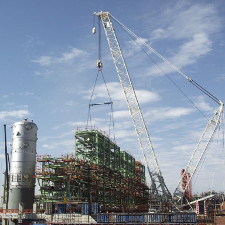 USPL provides end-to-end logistics logistics support service, specialising In offering an extensive range of equipment and vehicles on lease I hire. Besides this, we also offer Port Handling, CFS & ICD Handling, Domestic Cargo, Project Cargo and Base Management. We have handled many tumkey projects of various size and weights and have the experience and expertise for handling such projects.
Material Handling Operations
---


We arrange Material Handling operations including equipment for bulk, precious or other special cargoes.